Kilimanjaro Pictures - a photo guide to Africa's highest mountain
The Kilimanjaro pictures in this photo gallery are a picture guide to climbing Kili and to travel beyond. They are organised by topic and they come with a lot of information.
You can follow the individual climbing routes and get familiar with the Kilimanjaro wildlife and vegetation.
You can also have a look at some other volcanoes and mountains near Kilimanjaro that make good acclimatization treks for a Kilimanjaro climb.
Below is a table of content for the Kilimanjaro photo gallery, and then some great photos of Kili, to set the mood.
Pick your topics from the table of contents. To view all Kilimanjaro pictures, just follow the links at the bottom of each page.
---
Kilimanjaro Photos Gallery
---
Views of Kilimanjaro - Pictures 1-4

Classic Kilimanjaro shot by Cjasik.

It's a classic picture: a photo of an elephant in front of Kilimanjaro. But you can not get this photo when climbing Kilimanjaro or even from Tanzania. To get this kind of picture you will have to go to Kenya and visit the Amboseli National Park.
Amboseli will provide the elephants for the foreground. Of course, if Kili will play along is a different question. Most days Kilimanjaro is hidden by clouds. Weeks may go by without a glimpse of it...


Kilimanjaro floating above the clouds, photo by Styg Nygaard.

This photo of Kili floating above the clouds was taken from a hotel room in Marangu.
Then again, you may get lucky...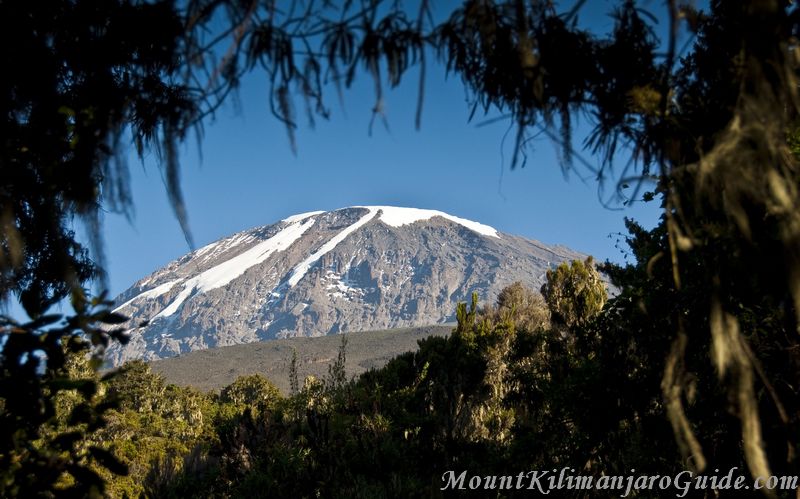 Clear view of Kilimanjaro, © Uta Philipp.

The best time to catch a clear view, be it to Kili or from Kili, is at dawn.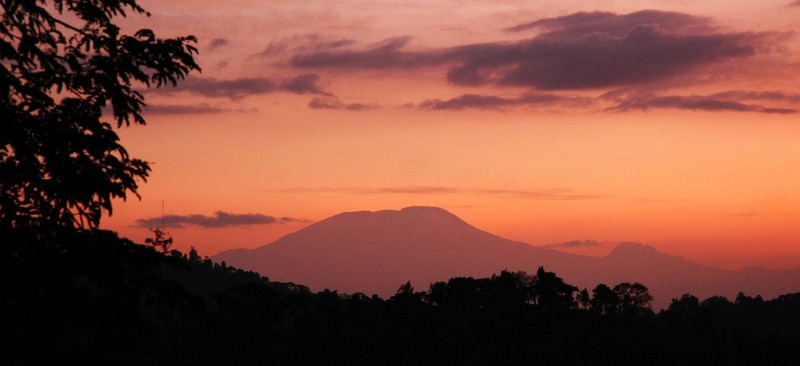 Kilimanjaro at dawn, photo by Pintaa.
Views from Kilimanjaro - Pictures 5-11

The photos below show some views as climbers on Kilimanjaro experience them.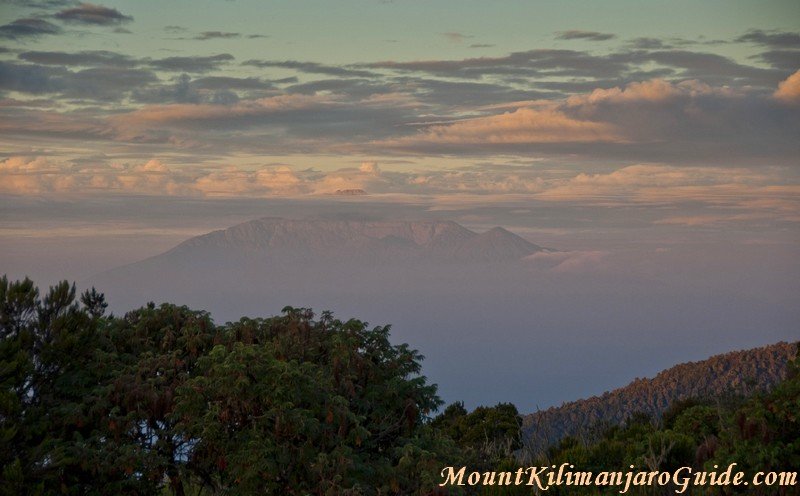 Mt. Meru from Mt. Kilimanjaro, © Uta Philipp.

This is not Mount Kilimanjaro. This is Mount Meru as seen from Kilimanjaro.
Many Kilimanjaro climbers use Mt. Meru as an acclimatization trek. After all, it is over 4500 m tall. But it is also a great mountain to climb in its own right and its slopes offer some of the richest flora and fauna you will come across in Tanzania.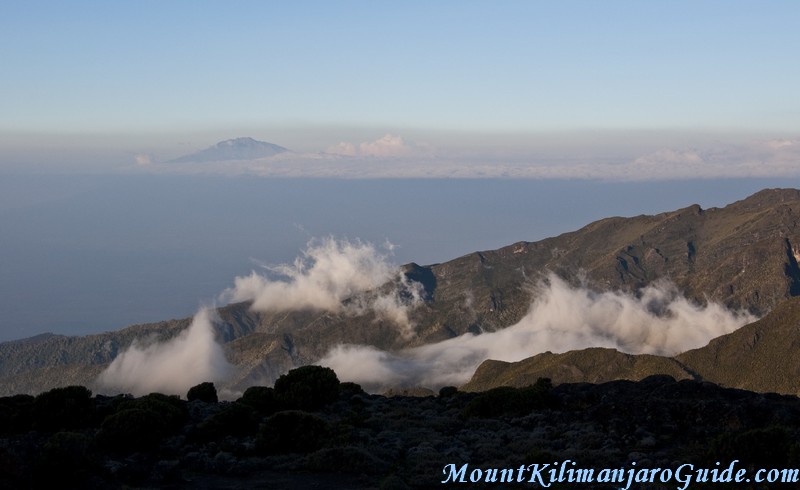 Mount Meru seen from Shira Plateau, © Uta Philipp.

Again, Mt. Meru seen from Mt. Kilimanjaro, this time from higher up. This photo was taken from the Shira Plateau where climbers will spend one night camping if they climb via the Machame, Shira or Lemosho Route.
Below is the view in the other direction, towards Kibo Peak.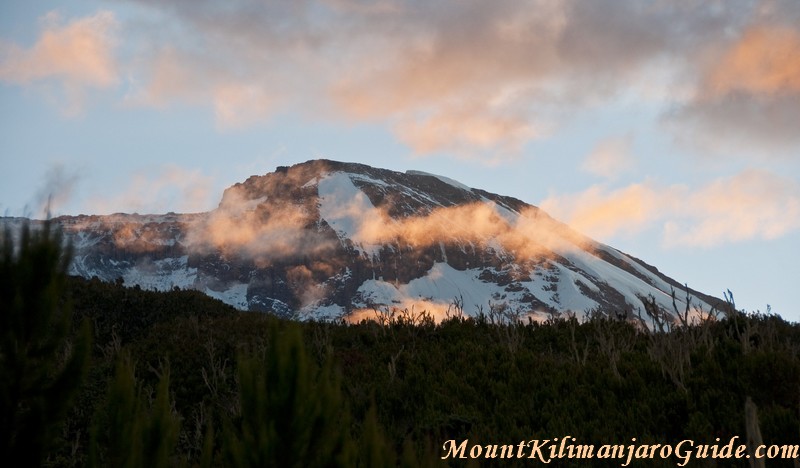 Kibo across the Shira Plateau, © Uta Philipp.

And here is another shot of a similar view, taken on a misty morning.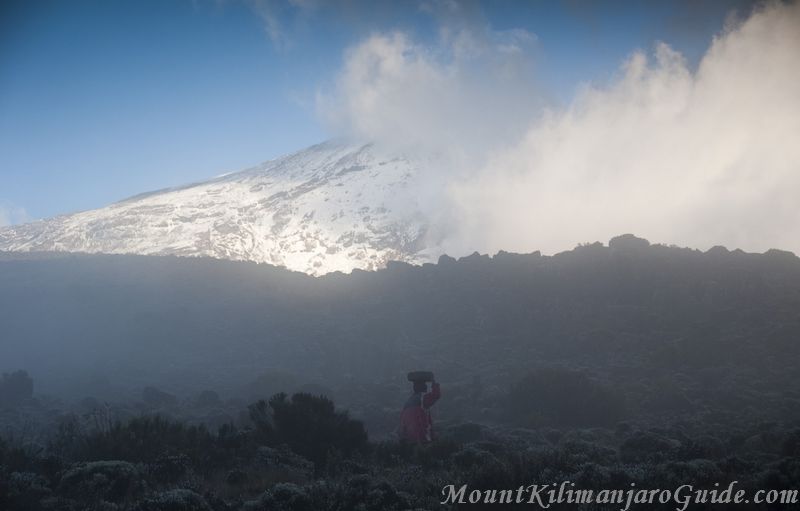 Misty morning on Kilimanjaro, © Uta Philipp.

Mount Kilimanjaro has three peaks. The Shira Plateau from where the above two pictures were taken is the oldest. Kibo is the main and highest peak, the destination of people climbing Kilimanjaro.
The third peak is a jagged rock spire called Mawenzi.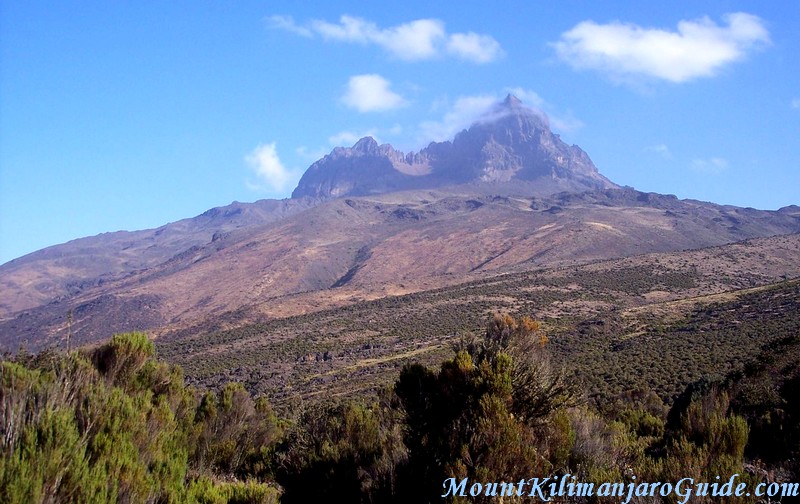 Mawenzi Peak

This is Mawenzi as seen on day 2 of a climb on the Rongai Route. The picture below is Mawenzi again, this time photographed from directly beneath it. Climbers on Rongai will camp below Mawenzi on their third night.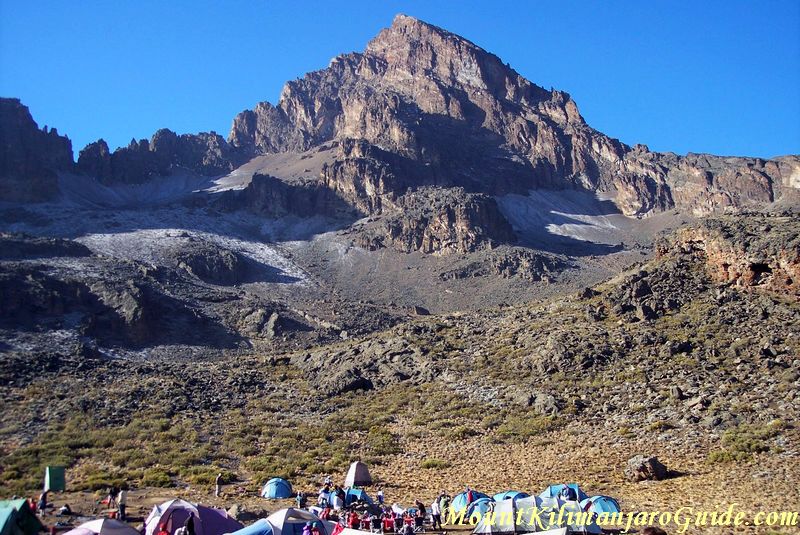 Mawenzi Peak Campsite

And last but not least, what does it look like from the top of Kilimanjaro?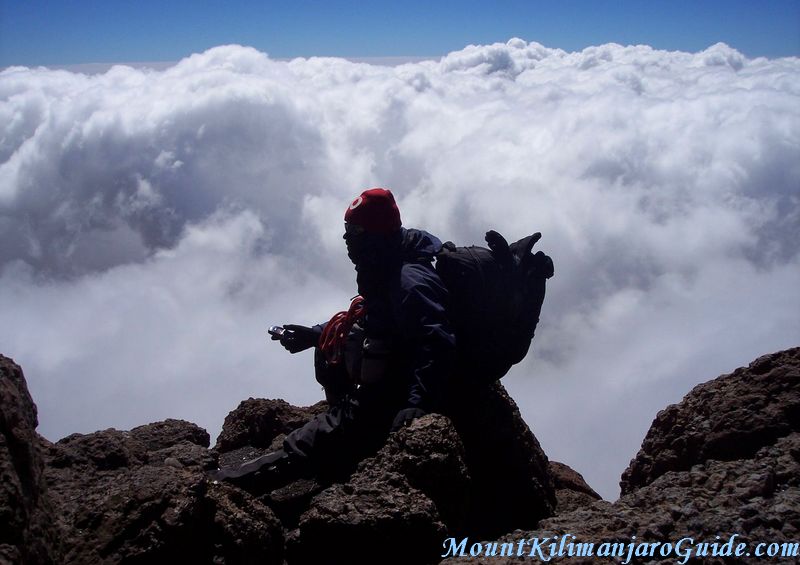 A Kilimanjaro porter is having a rest above the clouds. No view but mobile phone reception. © Uta Philipp.

There is a good chance that it will look something like that. But more on the views at the top later...
Next: Marangu Route Pictures

Do you need help with all this?
Would you like to contact a responsible and trustworthy operator with competitive prices?
Get some free, no obligations advice on route selection, duration and timing?
I regularly receive emails asking me if there is an operator I personally can recommend.
There is and you can contact my preferred operator through this page.