Mount Meru in Arusha National Park
Tanzania's second highest mountain is much more
than just a "warm up" trek for Kilimanjaro.
Mount Meru is an active (but dormant) volcano located north of Arusha in Tanzania.
At 4562 metres it is Tanzania's second highest mountain and the fourth highest mountain in Africa.
The mountain became well known mainly because it is only 70 km from Mount Kilimanjaro:
Mt. Meru has become a popular "warm up" trek for Kilimanjaro climbers.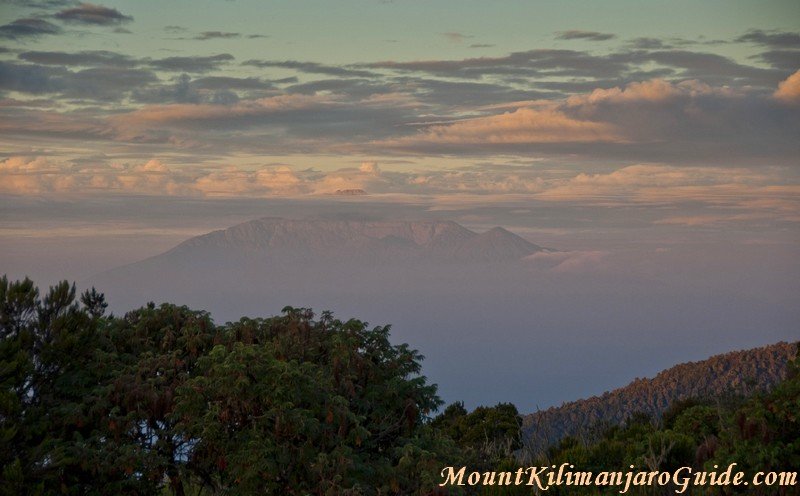 Mount Meru viewed from Mount Kilimanjaro. © Uta Philipp.

Mt. Meru is indeed the perfect preparation for a Kilimanjaro climb. It offers you a taste of what you can expect on Kili:
    You trek in a group with porters, cook and guides,
    you climb through different vegetation zones over several days,
    you start your summit attempt around midnight and reach the peak around sunrise,
    and you then descend an awesome 2000 metres on the same day, very similar to your Kilimanjaro summit day.
Most importantly, at a height of 4562 metres (14967 feet) Mt. Meru requires your body to make changes to adapt to the altitude.
It's called acclimatisation and as a result you will be much better prepared for you Kilimanjaro climb. That altitude acclimatisation is the main reason why people climb Mount Meru and Kilimanjaro together.
I think it is a shame that so many people who visit Tanzania and Kilimanjaro view Meru only as a warm up trek for Kilimanjaro.
Mount Meru is a very rewarding trek in its own right.
And it is also a challenging climb. Do not underestimate it!
The height is certainly enough to bring on altitude sickness if you ascend too fast. And bad weather can make the trek along the knife edge ridge of the crater rim a positively dangerous undertaking.
But when the weather plays along  the Mt. Meru crater rim walk is one of the most spectacular walks you can do in Africa.
Resting on the walk along the knife edge crater rim of Mount Meru on an unfortunately foggy summit day..

Even just hiking and camping on the slopes or visiting the ash cone in the much lower crater are walking safaris that I can warmly recommend. You will be amazed by the amount of wildlife you can find on this mountain, the vegetation is stunning all the way, and Meru simply isn't as overrun as Kilimanjaro is.
(For people who are doing walking safaris on the lower slopes or in other areas of Arusha National Park there are several campgrounds. And for those wanting to do a safari in style there are a couple of very comfortable lodges just outside Arusha National Park.)
Climbing Mount Meru
Arusha National Park is about an hour's drive from Arusha, and Momela Gate (1514 m/4967 ft), the start of the Mt. Meru climb, is about 15 km from the national park entrance.
Most Kilimanjaro tour operators and trekking agencies in Arusha organize Meru climbs.
(Mt. Meru differs from Mt. Kilimanjaro in that you don't HAVE to trek with a licensed operator. But organising all the food, equipment, permits, transport, porters, a ranger and a guide yourself will likely not work out any cheaper, and the hassle just isn't worth it.)
If you want to climb to the summit of Mt. Meru you need two or three nights on the mountain. You ascend about 1000 m/3300 ft per day. The third night does NOT give you extra time to acclimatise to the height. It is spent on the way down.
It is possible to skip the third night by descending over 3000 metres (9850 ft) in one single day, all the way from the summit back down to Momella Gate (where your transport should be waiting), but I would not recommend that.
It is cruel on the knees. You will also be so tired that the whole descent is just a painful slog, when it could be a very enjoyable trek through some of the best forests Tanzania has to offer. And believe me, the jungle on the slopes of Meru looks totally different when viewed coming down than when you climb up. You see so many things you never noticed on the way up!
Having said that, skipping the third night does save you money...
The choice of climb route is much easier than choosing a Kilimajaro route. On Meru there is only one climb route.
Accommodation for climbers on Mount Meru is in two very well appointed, big huts, the Miriakamba Huts at 2514 m (8248 ft) and the Saddle Huts at 3570 m (11712 ft).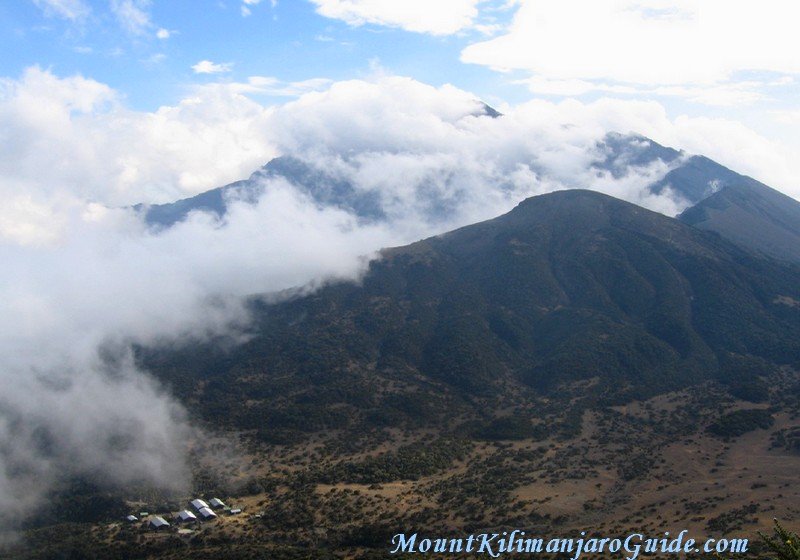 The cloud filled crater of Mt. Meru, with the Saddle Huts in the bottom left corner. The photo was taken from "Little Meru".

Mount Meru also has a second peak, called Little Meru.
Little Meru (3801 m/12533 ft) is usually visited on an acclimatisation walk on the afternoon of the second day of your trek. You walk from the Saddle Hut to Little Meru and back.
Oh, and after your climb you get two certificates. One for reaching Little Meru, and one for making it to "Socialist Peak", the main Mt. Meru summit.
More about climbing Mt. Kilimanjaro and Mt. Meru together
Do you need help with all this?
Would you like to contact a responsible and trustworthy operator with competitive prices?
Get some free, no obligations advice on route selection, duration and timing?
I regularly receive emails asking me if there is an operator I personally can recommend.
There is and you can contact my preferred operator through this page.