Climbing Mount Kilimanjaro on the Marangu Route
The oldest route on Mount Kilimanjaro, the Marangu route, is also known as the "Tourist Route" or "Coca Cola Route".
And you may have heard that "of all routes up Mt. Kilimanjaro, the Marangu route is the easiest, cheapest and by far the most popular."
Only one of the statements is true: climbing Kilimanjaro on the Marangu route is the cheapest option.
The Marangu route is not the most popular route any more. It has been surpassed by the Machame route.
And I disagree with the statement that the Marangu Route is the easiest because it is misleading. It maybe the easiest trip to organise, have the widest, most comfortable path to walk on and offer hut accommodation, but that does NOT make it easier to reach the summit.
Of all climbing routes on Kilimanjaro, the Marangu route has the lowest success rate!
Keep that in mind. Don't fall for the promise of "easy"!
(If you think your fitness leaves to be desired and are looking for easy, I recommend you tackle Kilimanjaro on the Rongai route.)
Having said that, as long as you are aware of the aspects that lead to the high failure rate you can avoid them to some degree.
This page tells you all about climbing Kilimanjaro on the Marangu route.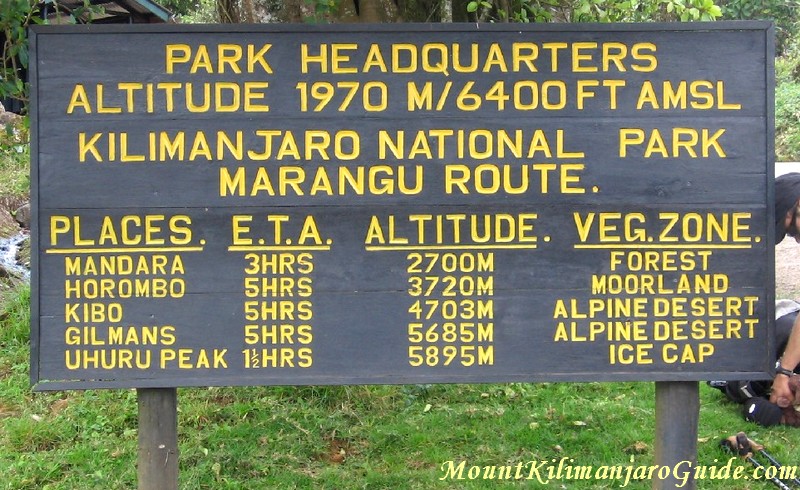 Sign at the start of the Marangu Route, Kilimanjaro National Park entry gate.
Marangu Route Itinerary
(Note: altitudes and distances are approximations. Different sources will give you different numbers.)
Starting Point: Marangu Gate (1860 m/6100 ft)
Duration: 5 days (acclimatization day can be added at Horombo)
Day 1 - Marangu Gate (1860 m/6100 ft) - Mandara Huts (2700m/8860 ft)
Walking distance: 8 km/5 miles
Walking time: 3-4 hours
Altitude gain: 840 m/2760 ft
Day 2 - Mandara Huts - Horombo Huts (3700 m/12140 ft)
Walking distance: 12 km/7.2 miles
Walking time: 5-7 hours
Altitude gain: 1000 m/3280 ft

Day 3 - Horombo Huts - Kibo Huts (4700 m/15420 ft)
Walking distance: 9.5 km/5.7 miles
Walking time: 5-7 hours
Altitude gain: 1000 m/3280 ft
Day 4 - Summit attempt via Gilman's Point (5700 m/18700 ft) to Uhuru Peak (5895 m/19340 ft) and descent to Horombo Huts (3700 m/12200 ft)
Walking distance: 5.5 km/3.5 miles ascent + 15 km/9.5 miles descent
Walking time: 5-6 hrs + 1-2 hours up, 5-6 hours down (the overall walking time may vary from 10 - 16 hours)
Altitude gain: 1000 m/ 3280 ft (Gilman's Point) or 1195 m/3920 ft (Uhuru Peak)
Descent: 2195 m/7200 ft
Day 5 - Horombo Huts - Marangu Gate
Walking distance: 20 km/12.5 miles
Walking time: 5 hours
Descent: 1840 m/6040 ft
Climbing Mt. Kilimanjaro - Marangu Route - Day 1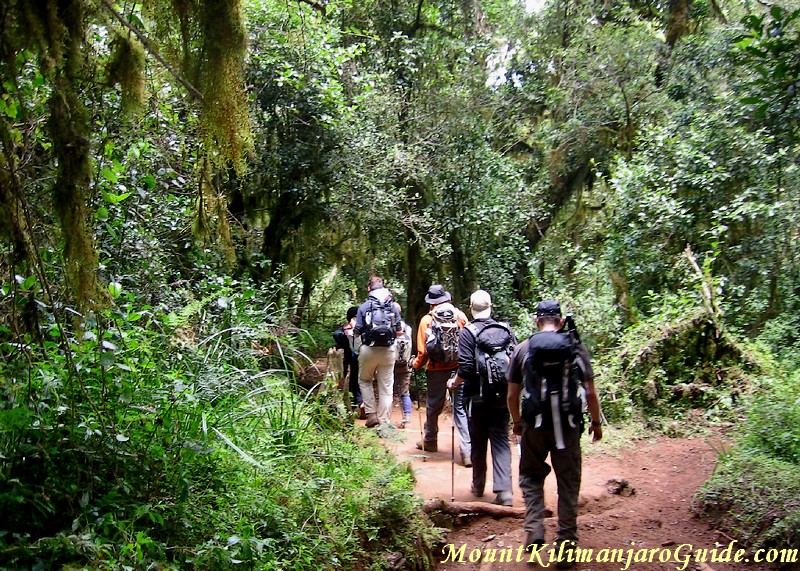 Hiking through dense forest on day 1 of the Marangu Route.

Your first day on Kilimanjaro starts with the transfer from your hotel to Marangu gate, the registration formalities, an introduction to your guides, the packing of all equipment and distributing it among the porters. Expect to linger at the gate for an hour or two before you get going.
The first day on the Marangu Route leads through rain forest. (You know why it's called rain forest, right? ALWAYS carry your rain gear in your day pack!)
Actually, montane forest is the correct name for this climate zone and vegetation. The wide and well formed gravel path is fairly steep and leads steadily uphill, but the forest is so pretty that you don't mind.
For a while the path follows a little stream and it passes a couple of picturesque little waterfalls. You'll probably have lunch at the Kisamboni picnic area, which marks half way. It should take about an hour and a half to get there.
And it is about another hour and a half from here to the Mandara Huts. As you near the huts you will notice the vegetation change. You are about to enter the next climate and vegetation zone—the alpine heath and moorland. The first heathers appear, but most noticeable is the lichen dangling from all the trees and shrubs, leading to the name "bearded forest" that you may have seen under some Kilimanjaro pictures.
Soon you'll arrive at the Mandara Huts, a group of wooden huts in a forest clearing. If you do have time and energy left you can take a little side trip to the Maundi Crater. It takes about 15 minutes and, weather permitting, you will be rewarded with good views to Mawenzi.
You may also spot blue monkeys (they have become very used to people), and with a bit of luck even black and white colobus monkeys.
Climbing Mt. Kilimanjaro - Marangu Route - Day 2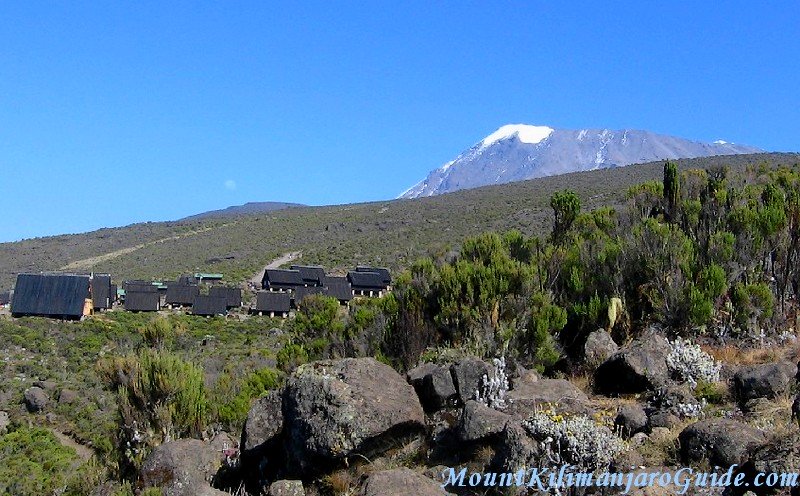 Arriving at the Horombo Huts with Kibo in the background.

First thing in the morning you will walk through a patch of forest. If you did not make the detour to Maundi Crater yesterday you now have another chance of spotting colobus monkeys. However, soon you will leave the last trees behind. You are now walking through moorland and the dominating plant is heather.
That means that, weather permitting, you should get good views of Kibo and Mawenzi. Some people describe the vegetation as bleak or boring as compared to the forest, but I actually prefer the more open views.
The most noticeable features, apart from the Kilimanjaro peaks of course, are the first giant senecios and loblelias that you can see growing among the ubiquitous heather.
The path meanders through the hills with some ups and downs and across a few dry creeks.
This is a long day. You will be covering quite some distance and altitude and you may start to feel the latter. Remember to drink plenty, and try to eat well, even if you don't feel like it.
From your lunch stop it is about another hour and a half to the Horombo Huts. (But don't feel pressured into making it in that time. It takes as long as it takes!)
You are quite high now and it will be bitter cold at night!
The Horombo Huts are in a scenic location with good views to Mawenzi. On clear days you may even be able to see Moshi way below you, as well as the Pare mountain range.
The Horombo Huts are by far the busiest place on Kilimanjaro, not just on the Marangu Route but on the whole mountain.
People who climb Kilimanjaro via the Marangu route stay here on the way up, on the way down, and if they take an extra acclimatization day they will spend another night at Horombo.
And as if that wasn't enough, climbers ascending via the Rongai route also descend via Marangu and will also spend a night at Horombo. (At least they have their own camping equipment and won't eat or sleep in the village of huts.)
Marangu Route - Optional Acclimatization Day
If you choose to climb Kilimanjaro on the Marangu route, please do add this optional acclimatization day to your schedule. Remember, Marangu is the route with the lowest success rate. The acclimatization day will increase your chances to reach the summit.
Today you can walk to an altitude of about 4500 m/14760 ft (or less), and then back to Horombo. Don't worry, you won't be doing the same trek twice. This hike is on an alternate path to the one you'll be taking tomorrow, and it is a more attractive one as well!
Climbing Mt. Kilimanjaro - Marangu Route - Day 3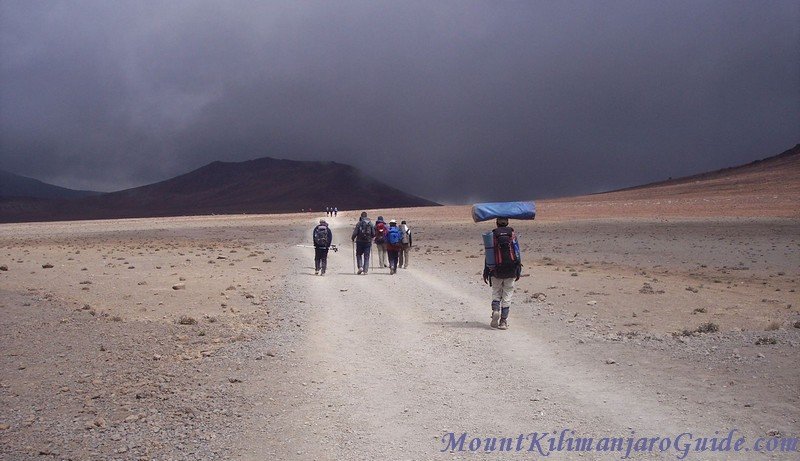 Hiking across the Saddle towards Kibo.

Whether you took the acclimatization day or not, hopefully you wake up without any symptoms of altitude sickness and feeling refreshed. Because another big day lies ahead of you.
As you keep trudging uphill the vegetation is gradually thinning out. You will be passing several water streams and they do not necessarily look inviting. Nevertheless, soon you'll reach the signposted "Last Water Point" at 4200 m/13780 ft. It is indeed the last chance to collect water, and your porters will. You might sit down at the picnic tables here and have a break.
Eventually—after having crossed a ridge and another ridge and another ridge to get here—the path leads uphill onto the "Saddle". This is the barren plain of alpine desert between the two main peaks of Kilimanjaro: Mawenzi and Kibo. The only living things left are some hardy grasses and the occasional everlasting flower. (How DO they do it? Blooming in this environment.)
After lunch it's an easy two hour stroll for some, for others it's a longer trudge across this bolder strewn plain, on a path that gets steeper and steeper, to the Kibo Huts, which do not seem to come any closer.
If you feel the altitude you will be surprised at how hard this is. The path doesn't LOOK steep, and it isn't (except maybe for the very last section), but the lack of oxygen turns the hike into a major effort.
The landscape can be quite dramatic, open and windswept, with big clouds rolling across it. Many people really enjoy this part. But it all depends how well acclimatized you are.
You will be looking at Kibo the whole time, and you will be having a good view of the challenge that lies ahead for you tonight...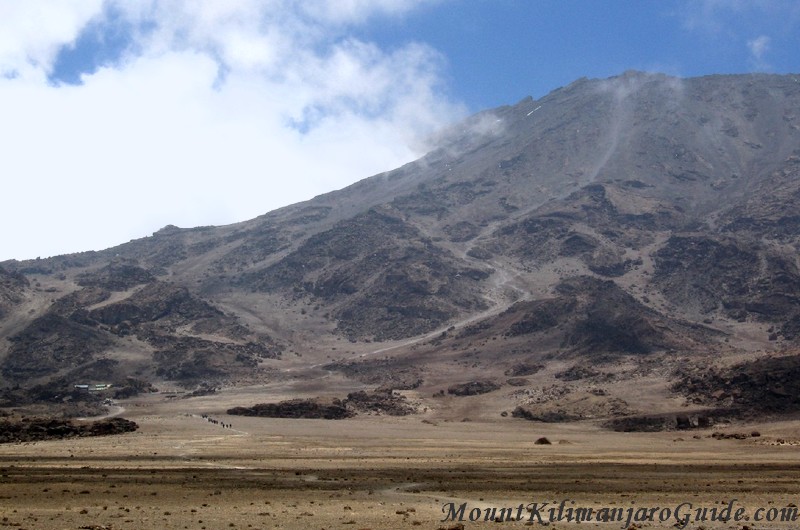 The Kibo Huts at the foot of Kibo (huts are on the left, summit trail in the middle).

Read on about summitting Kilimanjaro when climbing the Marangu Route...
Mount Kilimanjaro picture gallery: Marangu route
More about All Kilimanjaro routes
Do you need help with all this?
Would you like to contact a responsible and trustworthy operator with competitive prices?
Get some free, no obligations advice on route selection, duration and timing?
I regularly receive emails asking me if there is an operator I personally can recommend.
There is and you can contact my preferred operator through this page.