Climbing Mount Kilimanjaro on the Shira Route
Climbing Kilimanjaro on the Shira Route means to invest some time and money.
The Shira trail is one of the two longer Kilimanjaro climb routes that start on the western side. (The other route starting here is the Lemosho Route.)
Those routes both cross the Shira Plateau before joining the Machame Route near the "Lava Tower".
Shira is not the cheapest option...
Starting your climb on the western side means paying for extra transport.


Using a longer trail means paying for an extra day on the mountain.


And climbing a less trafficked route means higher prices due to less competition from budget tour operators.
On the plus side a longer route means a better chance to acclimatize to the altitude and better summit chances. The fact that you are likely to climb this route with a quality Kilimanjaro tour operator also means your success chances are much better than average.
And if your operator has developed your itinerary in a way that avoids the big traffic surges on the Machame trail (some operators do) you should have a great climb all the way, on one of the most scenic routes, without the crowds that plague the popular trails.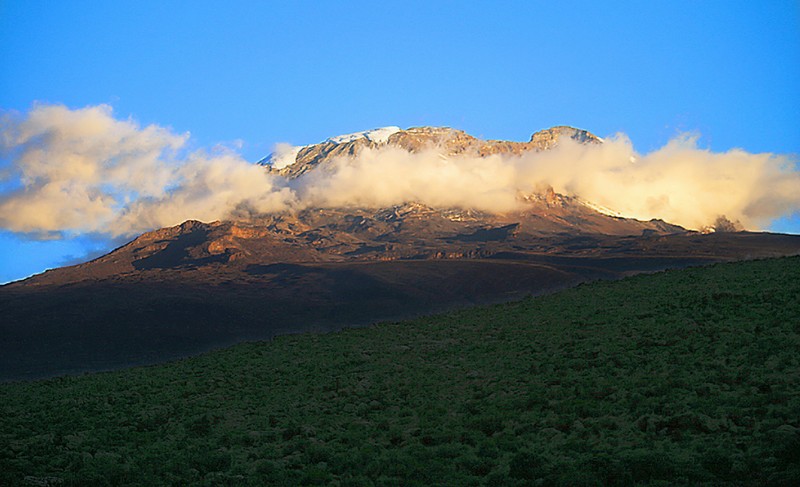 View of Kibo from Shira Plateau, photo by blhphotography.
There is one thing about the Shira Route that sets it apart from all other Kilimanjaro climb routes: the first section of it is a 4WD track. It is possible to drive up a fair way and begin your trek at a considerable altitude.
If you are someone who lives at sea level and tries to squeeze in a Kili climb, taking only one week off from the the office, then this could trip you up.
Shira certainly allows plenty of time for acclimatisation during the later stages, but some people can develop altitude sickness symptoms at those lower altitudes already. And catapulting yourself from sea level to a height above 3500 m/11500 ft the day after arriving in Tanzania may not be the smartest thing to do.
(Read more about avoiding altitude sickness when climbing Kilimanjaro.)
But for most people it won't be an issue at all. If you had a day or two in Marangu, or have done some other trekking and acclimatization beforehand (for example climbing Mt. Meru), then you won't have any problems even with this rapid start.
Just thought I point it out, because I know people DO try to squeeze climbs into one week and to cut costs where possible (i.e. the cost for another night in Marangu or Moshi). Also, the itinerary I describe below is the slower version where you walk all the way.
Below are some more detailed notes about what to expect during a Kilimanjaro climb on the Shira Route.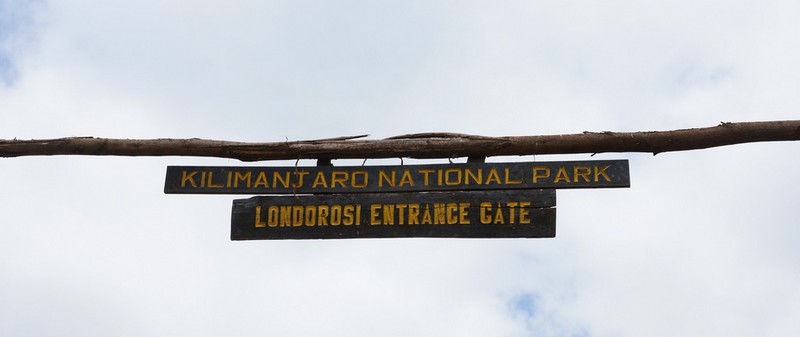 Londorossi Gate, the registration point for the Shira Route, photo by mitchpa1984.
Shira Route Itinerary
There are many possible slight variations to the Shira route, so don't be surprised if you see an intinerary that mentions different camps and different heights.
In fact, many agencies call the Lemosho Route Shira Route, because it also crosses the Shira Plateau.)
The itinerary below describes a six night/seven day Kilimanjaro climb on the Shira Route.
Like Machame this trek can be shortened if you skip the night in the Karanga Valley and instead walk straight from the Barranco Huts to the Barafu Huts in one day. It can be shortened more by driving instead of walking the first day and skipping the first camp.
The trek can be extended by adding an extra night at Moir Huts for acclimatisation.
For experienced mountaineers there is also a challenging and dangerous specialist version via the Western Breach.
(Note: altitudes and distances are approximations. Different sources will give you different numbers.)
Starting Point: Londorossi Gate (2100 m/6900 ft)
Duration: 6-7 days
Day 1 - Londorossi Gate/Shira trail head - River Camp (~3050 m/~10000 ft)
Walking distance: 7 km/4.4 miles
Walking time: 4 hours
Altitude gain: ~950 m/~3100 ft
Day 2 - River Camp - Shira Huts (3850 m/12630 ft) via Shira Cathedral
Walking distance: 12 km/7.5 miles
Walking time: 6-8 hours
Altitude gain: 800 m/2630 ft

Day 3 - Shira Huts - via Lava Tower (4640 m/15220 ft) - Barranco Huts (3985 m/13070 ft)
Walking distance: 9 km/5.6 miles
Walking time: 6-8 hours
Altitude gain: 135 m/440 ft (790 m/2590 ft to Lava Tower)
Day 4 - Barranco Huts - Karanga Camp (4040 m/13255 ft)
Walking distance: 5.5 km/3.5 miles
Walking time: 4-5 hours
Altitude gain: 55 m/185 ft
Day 5 - Karanga Camp - Barafu Huts (4680 m/15360 ft)
Walking distance: 3.5 km/ 2.2 miles
Walking time: 4-5 hours
Altitude gain: 640 m/2105 ft
Day 6 - Summit attempt via Stella Point (5752 m/18871 ft) to Uhuru Peak (5895 m/19340 ft) and descent to Millenium Camp (3820 m/12530 ft) (or to Mweka Hut)
Walking distance: 5 km/3 miles ascent + 10 km/6.2 miles descent
Walking time: 5-6 hrs + 1-2 hours up, 5-6 hours down (the overall walking time may vary from 10 - 16 hours)
Altitude gain: 1072 m/ 3511 ft (Stella Point) or 1215 m/3980 ft (Uhuru Peak)
Descent: 2075 m/6810 ft
Day 7 - Millenium Camp - Shira Gate
Walking distance: 20 km/12.5 miles
Walking time: 5 hours
Descent: 1990 m/6530 ft
Climbing Mt. Kilimanjaro - Shira Route - Day 1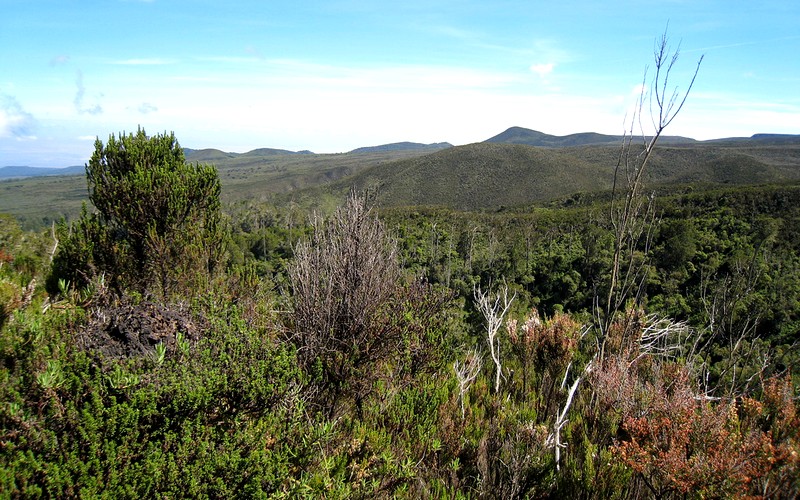 Views over moorland, photo by Armstrks.

The starting point for the Shira Route is the Londorossi Gate (same as for the Lemosho Route). It is a two to three hour drive to get there and on this first day you may well spend more time driving and waiting around at the gate than you will be walking.

Londorossi (name for the village and the park gate) looks like something pulled out of a cheap Western. The place is entirely made out of wood. The high timber fences you see are supposed to keep the wildlife out.

That already indicates another advantage of taking one of these lesser trafficked routes. You do indeed have a better chance to see some wildlife on the first days, though this applies to Lemosho more than to Shira.

But everybody does have a good chance of seeing the beautiful black and white Colobus monkeys, because some of them have taken up residence in the trees right next to the park ranger quarters. Check them out while you are waiting for the registration and permits to be organised - the usual start of a Kilimanjaro climb!

What follows after the registration at the gate is unusual: you keep driving. The Shira Route is the only Kilimanjaro climb route that you can follow in a car, at least for part of the way on day one. Theoretically you could drive all the way to the Morum Barrier at the foot of the Morum Hill. (Only emergency vehicles are allowed beyond the barrier.)

This skips the first camp and drops you at a height of about 3500 m/11500 ft!

The alternative is to walk, following the same road. Walking on a 4WD track may not be as attractive as walking on a narrow wilderness trail. However, the rainforest here is at least as beautiful as along Machame and Marangu, if not more so. (And the chances of rain are just as big, if not more so.)

The bird life is excellent, there may be more Colobus monkeys, and some really, really lucky people may even see elephant or buffalo. (Don't hold your breath, though.)

You follow the Ngarenairobi River as you leave the forest and enter the next vegetation zone: moorland and heather. Your first campsite is located between the road and the river.

If you choose to walk, then the first day takes you up to six hours (with breaks) or much less, depending where exactly you start walking.

Climbing Mt. Kilimanjaro - Shira Route - Day 2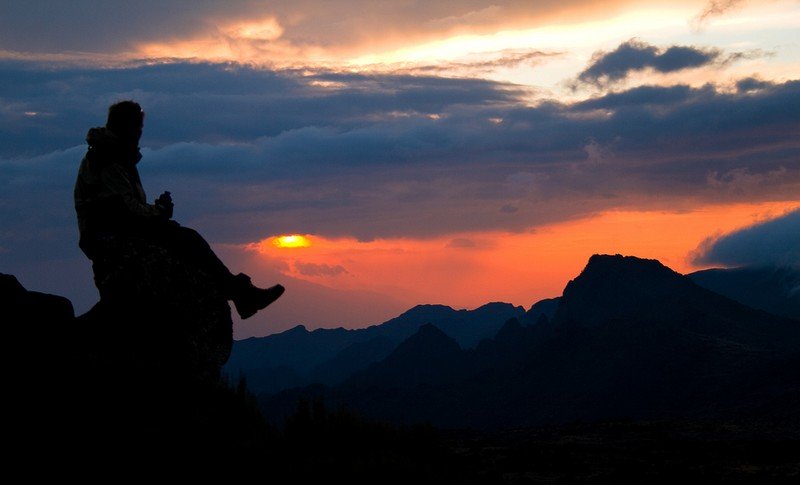 Sunset on Kilimanjaro from Shira Huts, photo by Stig Nygaard.

The next day begins with a steady climb up the slope towards the Morum Hill and Morum Barrier. This is where the Shira Plateau begins (and half of the climbers begin their Shira trek). The road continues after the gate, but only emergency vehicles are allowed here.
You now start heading south east on a mostly flat path across the plateau. In another two hours you reach the junction of the Shira and the Lemosho Route, the location of the Simba Cave Campsite (3590 m/11780 ft) on the side of the Simba River. Not long after you pass the turn off to another campsite, called Fischer Campsite (3885 m/12745 ft), which is some way off the main trail.
You reach your camp for the night, the Shira Huts, by instead following the main trail for another half hour or so. (And don't let the name confuse you. It's just another campsite...)
There is an alternative route to get here, a detour past the Shira Cathedral and a climb to its summit (3720 m/12200 ft). The huge buttress of rock is surrounded by steep needles and pinnacles. It's scenic area with a real sense of wilderness, certainly worth the detour.
For those who didn't make the detour there are still the great views from camp: Shira Needle, Cathedral and Shira Hill, and Kibo itself and the Western Breach.
Climbing Mt. Kilimanjaro - Shira Route - Day 3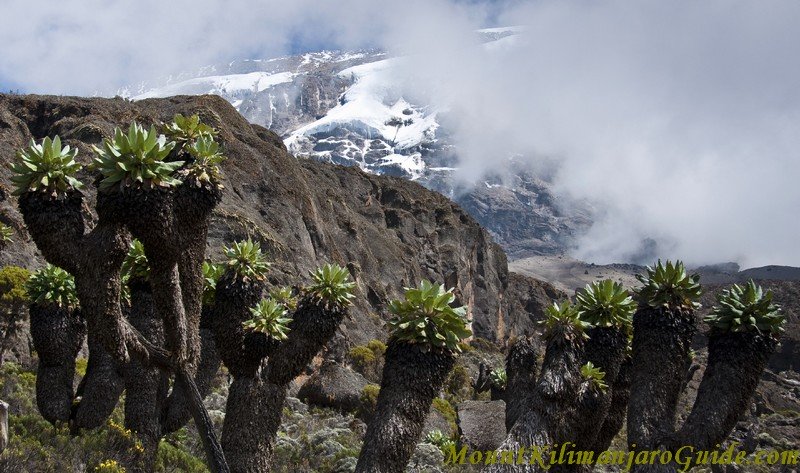 Senecios in the Barranco Valley. © Uta Philipp.

Day three offers even more options than the first two days did, though initially all climbers follow the same trail:
The day starts with a good two and half hours of walking mostly gently uphill (and scrambling a bit for two short sections). Following the slope of the Shira Plateau you gradually leave the heather and moorland behind and enter the mostly barren alpine desert region, enjoying breathtaking views all the way.
Soon you come across the first junction. One option is to add an acclimatization day here and continue your trek to Moir Huts (4140 m/13579 ft), thirty minutes off the main trail. This is a scenic and quiet campsite in a valley surrounded by steep slopes, possibly the quietest camp on the mountain. If your operator takes you here you will arrive around lunch time and spend the afternoon exploring the Lent Hills, including an acclimatization walk to 4700 m.
The other climbers continue on the main trail. After some bends and ups and downs you reach the junction with the busy Machame Route. Shortly after you come to another junction. You have the options to either head towards the Lava Tower as a detour or even for another extra night, or to continue straight on towards Barranco.
(Climbers tackling the summit via the difficult and dangerous Western Breach route will turn off towards the Lava Tower Camp.)
The Lava Tower is a 100 m/300 ft volcanic plug, left over from times when Kilimanjaro was volcanic. The path towards it is a gentle slope and as you climb towards it even the short heather disappears altogether to reveal the rocky ground of the lava ridges.
The climb is often experienced as strenuous. After all, you'll be climbing up to over 4500 m and your body will sure notice the the lack of oxygen!
After a much deserved lunch break near the Lava Tower you descend into the beautiful Barranco Valley, the result of a massive landslide some 100,000 years ago. The valley is sheltered by towering cliffs and is much greener. There is vegetation again, most notably the giant senecios and lobelias. You have great views across the plains way below and you also get your first glimpse of the Barranco Wall. You will climb that tomorrow...
The Barranco Camp is without a doubt the most spectacular campsite of this route, with fantastic views of Kibo, the Western Breach and the first of the southern glaciers, a fitting reward after a strenuous day.
Don't be surprised if you have slight symptoms of altitude sickness. You have been quite high today, but by climbing high and sleeping low you are giving your body the best chances to adapt. Don't be disheartened about the loss of hard earned altitude. This was an important day for acclimatisation.
Whether climbers reached the Barranco Camp via Machame, Shira, Lemosho, or even on a special route around the northern circuit, from this point onwards all climbers follow the same trail...
You can read the detailed description of this part of the Shira/Lemosho/Machame routes here.

More about All Kilimanjaro Routes

Do you need help with all this?
Would you like to contact a responsible and trustworthy operator with competitive prices?
Get some free, no obligations advice on route selection, duration and timing?
I regularly receive emails asking me if there is an operator I personally can recommend.
There is and you can contact my preferred operator through this page.