Climbing Mount Kilimanjaro
on the Machame Route
To climb Mount Kilimanjaro on the Machame route means sharing the mountain with a lot of other trekkers.
Ever since the budget operators discovered it, traffic on the Machame route has been growing. It has now overtaken the Marangu route as the most heavily trafficked climb route on Mount Kilimanjaro.
The reason is not only that prices have been dropping. The Machame route is considered the most scenic route up Kilimanjaro.
However, that's not really true. The Machame route is a very scenic route, but not the only one. Both the Shira route and the Lemosho route share the same path as the Machame route after the first day or two. But they are less trafficked and ideally longer, so they are more expensive.
It would be more correct to say Machame is the most scenic Kilimanjaro route you can climb with a budget operator.
(If it's a good idea to climb Mt. Kilimanjaro with a budget operator, that's of course a different question.)
Climbing Kilimanjaro on the Machame is considered to be more difficult than on the Marangu route or Rongai route.
Hence it's jokingly called the "Whiskey Route", a tougher climb than the "Coca Cola route" (Marangu). Now before you hit the back button to check out Marangu, consider that although the Machame route is supposed to be more difficult, the succes rates are higher on Machame than on Marangu!
Climbing the Machame route is more difficult, but not technically difficult.
Mostly it is simply a longer and often times steeper trek. It covers more ground and involves more ups and downs. It wears you out more, takes more energy, not more skill. But it offers much better acclimatisation!
Some people are terribly worried about climbing the Barranco Wall. Don't worry. It's not a cliff face and it's not a climb. It's mostly a very steep path that requires you to use your hands every now and then. A bit of a scramble in a couple of places...
(If you are concerned, either about the scrambling or about the demands on your fitness, then you should consider the Rongai route.)
As for the Kilimanjaro climb on the Machame route, read the detailed description below.
The path above the Machame Huts, photo by Stig Nygaard.
Climbing Kilimanjaro: Machame Route
Machame Route Itinerary | Machame Route Detailed Description
Compare Route Difficulty | Machame Route Pictures
Machame Route Itinerary
The itinerary below describes the six night/seven day Kilimanjaro climb on the Machame route.
To shorten it to six days you skip the night in the Karanga Valley and instead walk straight from the Barranco Huts to the Barafu Huts in one day.
Theoretically you could also extend the trek to increase your summit chances, but if you can afford a longer trek then the Shira or Lemosho route are better options. They share the same scenic path for the last four days to the summit, but offer real wilderness and solitude on the first couple of days.
For experienced mountaineers there is also a challenging and dangerous specialist version via the Western Breach.
(Note: altitudes and distances are approximations. Different sources will give you different numbers.)
Starting Point: Machame Gate (1830 m/6000 ft)
Duration: 6-7 days
Day 1 - Machame Gate (1830 m/6000 ft) - Machame Huts (3030 m/9940 ft)
Walking distance: 5.5 km/3.5 miles
Walking time: 5-7 hours
Altitude gain: 1200 m/3940 ft
Day 2 - Machame Huts - New Shira Camp (3850 m/12630 ft)
Walking distance: 5.5 km/3.5 miles
Walking time: 4-6 hours
Altitude gain: 820 m/2690 ft

Day 3 - New Shira Camp - via Lava Tower (4640 m/15220 ft) - Barranco Huts (3985 m/13070 ft)
Walking distance: 10 km/6.2 miles
Walking time: 5-7 hours
Altitude gain: 135 m/440 ft (790 m/2590 ft to Lava Tower)
Day 4 - Barranco Huts - Karanga Camp (4040 m/13255 ft)
Walking distance: 5.5 km/3.5 miles
Walking time: 4-5 hours
Altitude gain: 55 m/185 ft
Day 5 - Karanga Camp - Barafu Huts (4680 m/15360 ft)
Walking distance: 3.5 km/ 2.2 miles
Walking time: 4-5 hours
Altitude gain: 640 m/2105 ft
Day 6 - Summit attempt via Stella Point (5752 m/18871 ft) to Uhuru Peak (5895 m/19340 ft) and descent to Millenium Camp (3820 m/12530 ft) (or to Mweka Hut)
Walking distance: 5 km/3 miles ascent + 10 km/6.2 miles descent
Walking time: 5-6 hrs + 1-2 hours up, 5-6 hours down (the overall walking time may vary from 10 - 16 hours)
Altitude gain: 1072 m/ 3511 ft (Stella Point) or 1215 m/3980 ft (Uhuru Peak)
Descent: 2075 m/6810 ft
Day 7 - Millenium Camp - Machame Gate
Walking distance: 20 km/12.5 miles
Walking time: 5 hours
Descent: 1990 m/6530 ft

Climbing Mt. Kilimanjaro - Machame Route - Day 1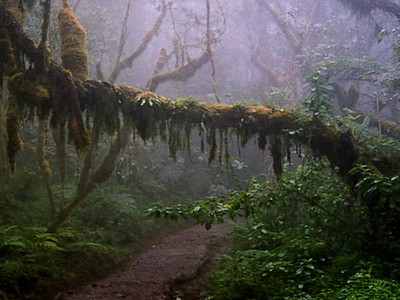 The cloud forest at the beginning of the Machame Route
Your first day on Kilimanjaro starts with the transfer from your hotel to the village of Machame and the Machame gate. The drive from Moshi takes about 50 minutes.
Hopefully you will be able to drive to the gate, because heavy rain can make the last few kilometres impassable for vehicles. And then you'd have to walk...
Whichever way you get to the gate, once you arrive you will meet your guides and porters, you need to complete the registration formalities, and then you are off...
Your equipment has been distributed amongst the porters and they are already ahead of you. (If not, they'll overtake you soon.)
The rainforest isn't called rainforest for nothing. This side of the mountain sees a lot of rain, and this climate zone gets 96% of all rain on Kilimanjaro!
Even if it's dry in the morning, chances are you will get a shower in the afternoon. You absolutely need excellent boots and rain gear from day one, as well as good protection for the stuff in your packs. And if you are unlucky you will be slogging through slippery mud to start with. (While the western routes see as much rain, the Machame route is the worst of all for mud underfoot.)
The first few kilometres you are following a four wheel drive track, but that soon becomes a neat, wide footpath.
The forest is beautiful, a real fairytale forest, lush and deep and green, if misty... (that's why it's also called "cloud forest". It's always in the clouds.)
Moss and lichen are dangling from the tall branches, tree ferns shelter underneath and impatiens and violas are flowering on the ground.
It's about two and a half hours to a lunch stop in a clearing near a stream. And after lunch the same again, much through the same terrain, until you get to the Machame Huts, your stop for the night.
The forest has gradually opened up. If you are lucky you have clear weather and you get your first peek at the Kibo peak.
Climbing Mt. Kilimanjaro - Machame Route - Day 2
Between Shira Huts and the new Shira Camp, photo by Stig Nygaard.
The Machame Huts marked the altitude where the montane forest gives way to the giant heathers of the moorland zone. The vegetation has opened up and, weather permitting, you will have great views. You can see Kibo, Mt. Meru in the distance and also Machame way down below as you make your way up towards the Shira Plateau.
By the way, the Shira Plateau is what's left of Kilimanjaro's third peak, the other two being Kibo and Mawenzi.)
This is also the first day that you will find the giant senecios and lobelias growing along the path.
The trail is much steeper today, especially until you reach your lunch stop.
Luckily it's a short day. After lunch it should take only an hour or so to reach the edge of the Shira Plateau, and from there your camp is not far.
You covered little distance but a fair bit of height today. Some people may start to feel the latter.
The taller vegetation has all but disappeared and the scenery is starting to look barren, more like a real mountain...
Your tent tonight will definitely be "a room with a view": Kibo, the Western Breach, the Shira Cathedral, the Needle... And whether it's coincidence or not, many of the best sunset shots from Kilimanjaro seem to have been taken from here...
Climbing Mt. Kilimanjaro - Machame Route - Day 3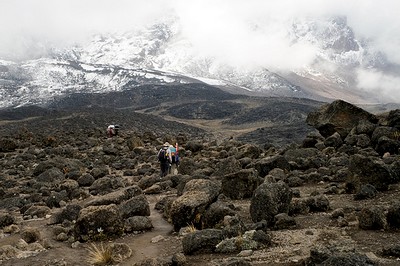 Approaching the Lava Tower, photo by Stig Nygaard.
Today is a long day. The first part of the day is spent climbing up towards the Lava Tower, a 100 m/300 ft volcanic plug, left over from times when Kilimanjaro was volcanic. It's a gentle slope and as you climb towards it the landscape becomes sparser still. Even the short heather disappears altogether to reveal the rocky ground of the lava ridges.
Though not as steep as yesterday's, the climb is often experienced as more strenuous. After all, you'll be climbing up to over 4500 m and your body will sure notice the the lack of oxygen!
After a much deserved lunch break near the Lava Tower you descend into the beautiful Barranco Valley, the result of a massive landslide some 100,000 years ago. The valley is sheltered by towering cliffs and is much greener. The senecios and lobelias are back. You have great views across the plains way below and you also get your first glimpse of the Barranco Wall. You will climb it tomorrow...
The Barranco Camp is without a doubt the most spectacular campsite of this route, with fantastic views of Kibo, the Western Breach and the first of the southern glaciers, a fitting reward after a strenuous day.
Don't be surprised if you have slight symptoms of altitude sickness. You have been quite high today, but by climbing high and sleeping low you are giving your body the best chances to adapt. Don't be disheartened about the loss of hard earned altitude. This was an important day for acclimatisation.
Whether climbers reached the Barranco Camp via Machame, Shira, Lemosho, or even on a special route around the northern circuit, from this point onwards all climbers follow the same trail...
Climbing Kilimanjaro on the Machame Route, Part II
Would you like to contact a responsible and trustworthy operator with competitive prices?
Get some free, no obligations advice on route selection, duration and timing?
I regularly receive emails asking me if there is an operator I personally can recommend.
There is and you can contact my preferred operator through this page.
---
Return from Kilimanjaro, Machame Route to Climbing Mount Kilimanjaro home page